Excellent location
Svatosska Residence is the newest residential project brought to you by Gaspar House sro. It is distinguished not only by its attractive location in Karlovy Vary's Doubi area, placed near the unique landscapes of Slavkovsky forest, but also by the exclusive concept of so-called villa-houses, which combines all the benefits of living in a family house with the price of a flat.
The concept of 4 villa-houses exists in two different versions: Villa #1 contains 6 apartments, 3+KK each, and 3 2+KK apartments. Villa #2 offers 2 apartments with 4+KK layouts, 4 apartments with 3+KK and 2 apartments with 2+KK layouts. Each house comes with an elevator.
Every flat comes with a spacious balcony or a lodge, and the ground floor apartments come with its own private garden.
Svatosska Residence is located in just 4 km from the Svatossky Rocks National natural reserve. One of its features, The Svatosh rock in the valley of the Ohře River was declared a national natural monument in 1933. Many famous historical figures were looking for inspiration walking around these rocks, including German poet and writer Johann Wolfgang von Goethe, the Czech poet Wilhelm Mrstik and the well-known doctor Sigmund Freud.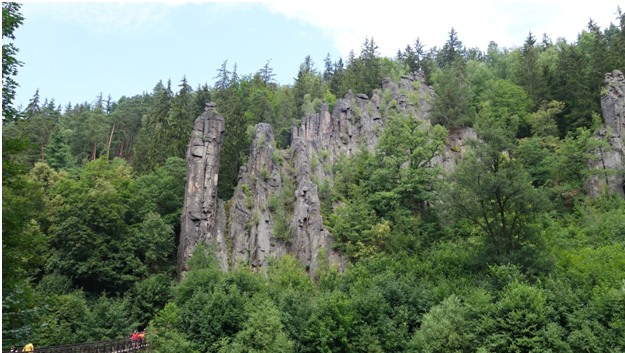 Karlovy Vary's Doubi district is distinguished with great transport infrastructure. It is connected to the city center with high-speed roads making it easy to access with car. In case you're not planning to drive, the close proximity of public transport will allow you to arrive at your destination within a few minutes.
You may also reach the rope amusement center, placed within the territory of now-closed Saint Linhart restaurant. There's also St. Linhart's Church ruin, known to be the oldest building in Karlovy Vary.
You may walk further from the Linhart, to reach up the Aberg's watch tower at Douba Mount, walk through the deep woods of Karlovy Vary, or come down to Brzezovsky's water reservoir on Tepla river.
Doubi dwellers may enjoy a great variety of sport activities: there's KV Arena and Congress hall, housing Karlovy Vary's Hockey Club "Energie", indoor pool, ball game room and fitness center. For golf enthusiasts, there's 18-holes golf field just 8 minutes away from Doubi, in the neighboring Cihelna.
There are many different shops and entertainment centers placed close to Svatosska Residence, such as «Globus», «Makro Cash&Carry», «Mobellix», «Tesco», «OBI» and others.